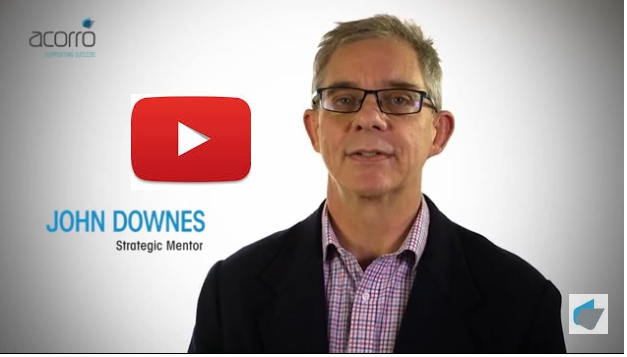 John Downes BEco FCA MIMC MAICD, Managing Director, Strategic Mentor.

Your Needs
As business owners and executives, we take our responsibilities very seriously. Too seriously sometimes, and that means that on occasion, we put our staff and their families before our own, their questions before the best use of our time, and struggle to see the strategic (and implementing it) as one of our first priorities.
We can become store-blind over time; unable to see the business – warts and all. It's not that our standards slip; just that we may not notice things as much. This is normal.
As a 30 year experienced professional business advisor, I support business owners and CEOs to achieve enjoyment, fulfilment and earn a just financial reward from their businesses. That's it.
The acorro mission is to enable that success to the best of our ability; to be the conscience of your strategy and to be there in the tough times and to celebrate the victories. And so, I bring an outsiders view to: challenge when necessary; tweak the good; and, provide practical-common-sense perspectives to enable more success and satisfaction from your business.
Our Experience
 I have gained significant experience as a business mentor from serving over 400 organisations (big, medium and emerging) across 15 industries in Australia, the United Kingdom, Asia and the United States of America. In 2009, I retired as a partner from global consulting firm, Deloitte, to establish this Strategic Mentoring business. My aim was to get much closer to a few business owners and CEOs rather than drive significant projects and teams as I had done for the previous 20+ years around the world.
Along the way, I founded the successful, Business Development Company which, with two partners, we grew from a start up to 25 staff and offices up the eastern seaboard serving some of Australia's largest franchise businesses.
Today, I only mentor CEOs and business owners of organisations with 10 – 300 staff, I help them to:
Set the vision of their organisation and plan how to achieve it
Build their businesses with the resources, skills and capabilities to deliver their vision
Focus on doing the right things right and to achieve their visions by measuring and managing their performance
Provide coaching to support them to face their growth challenges.
Can we work together?
My clients are very selective about taking on a mentor. I've learned that the best results as a business mentor, come where there is close alignment of passion, drive, ethics, size and listening skills. If you are prepared to give your business a red hot go; to listen to different ideas, to be challenged to test your practices; then drop me a line John Downes and let's see if there's the makings of a sound, respectful, professional and mutually rewarding relationship.